Winning the Study Game
Winning the Study Game: Learning How to Succeed in School - Reproducible Edition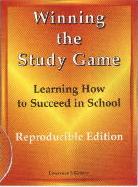 Winning the Study Game is designed to level the playing field for middle school and high school students (grades 6-11) in special education programs and for ADD or At-Risk stu­dents who will benefit from a study skills program. The comprehensive 16 Unit Student Workbook provides a range of effective and engaging exercises specifically tailored to advance students' study, ana­lytical, critical, and strategic thinking skills while concurrently strengthening reading comprehension and writing capabilities. This field-tested program will help students acquire the learning tools, judgment, and self-confidence they need to succeed in school and in life.
How To Thrive And Survive In The Classroom
Guide To Getting A Teaching Job
ETeach: A Teacher Resource. A Teacher Resource For Learning The Strategies Of Master Teachers.